Satellite TV is an area of life where size really does matter!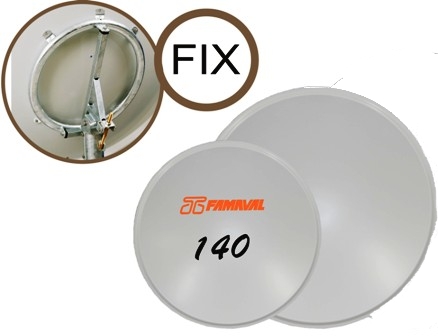 A 1.45 prime focas dish will receive most of the FREESAT and SKY channels but it is again marginal on many. It is the choice if space for mounting is limited.
A 1.80m dish will get most of the UK channels available with a margin for some bad weather and turbulence.  It is the preferred choice for good reliable reception. It must be floor mounted on a substantial concrete pad.
Signals do vary.  Satellites do change. Channel transmissions are often swapped around the system – the above dish size guide is a guide only. Please contact us for up to date information  before you commit to a system.
Location, location, location
Location is critical in 3 distinct ways – where your property is,  the type of property and the possible positions for a dish.
Property location …….. Signals vary in strength just within the Murcia region – reception data is different in Los Alcazares to Lorca to Calispara – so you will need an up to date assessment of location before designing a system.
Type of property is critical. A finca in the campo with acres of land will have  no trouble installing a 1.80m dish – a fourth floor apartment in a 12 storey block with private roof terraces will almost certainly not have a location for a larger dish.
A town house in a terrace with sloping roofs may have trouble with any size of dish. An ideal wall for a dish with close proximity to the television set may seem the perfect location but that palm tree in the line of sight to the satellite may just block signal!
Living on the top of a hill or in the bottom of a valley makes no difference to reception – it's the line of sight to the satellite that counts.
We suggest that if you are buying a property contact us BEFORE you finally commit – we will carry out a survey and advise on both reception data in the area and the possible locations for a dish. Leaving it until you have purchased may be too late – UK TV may not be possible.
Once your system is installed beware of that growing tree in front of the dish – install a pergola in the wrong place and the TV may go blank !